We Are an Official Partner of Fuzzballs!
We Are an Official Partner of Fuzzballs!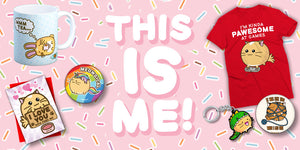 As the title says, we are proud to say we are an official partner of Fuzzballs! We are a huge fan of Fuzzballs and we are so pleased to have their cute products in our store!
The first time we have came across Fuzzballs was in a MCM Comic Con and we instantly fell in love with them ever since! We love them so much that even my partner has bought me a birthday and valentine's day card from them and I still have them to this day because they are just too cute to throw away. I have genuinely thought about framing them and having them as décor! 
But what is Fuzzballs?
Fuzzballs originally started as life as a webcomic in 2013 by Marc Sach. Ever since then, Fuzzballs has gained a massive international following with their fan base. Fuzzballs has many cute characters such as Fuzz Cat Whisky, Fuzz Tiger Timmy, Fuzz Bunny Ollie and many more!

Whisky
Fuzz Cat Whisky is always on the hunt for adventure, friendship and yummy treats!
Likes: Junk Food, Naps & Cuddles
Dislikes: Hard Work, Rainy Days & Exercise

Ollie
Fuzz Bunny Ollie always tries his best and is great at making yummy treats. Om nom nom.
Likes: Being Creative, Making Cookies
Dislikes: The Cold & Being Told He Can't Do Something

Timmy
Fuzz Tiger Timmy is a little silly and sometimes clumsy but always super adorable!
Likes: Pretending & Video Games
Dislikes: Vegetables, Chores & Having to Tidy Up The Mess He Makes 
Their goal is to create a world of happiness, filled with yummy treats, friendship and adventure that you'll enjoy for years to come! 
Please check out our super adorable Fuzzballs collection for fantastic kawaii gift ideas!