Vintage Books x Sweetie Kawaii 'The Mantis' Book Set IG Giveaway (CLOSED)
Vintage Books x Sweetie Kawaii 'The Mantis' Book Set IG Giveaway (CLOSED)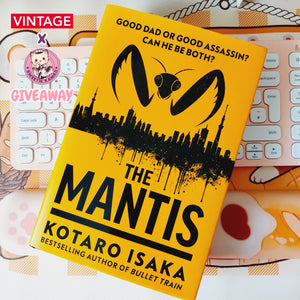 Instagram Giveaway
We've teamed up with Vintage Books
to bring you this amazing giveaway! 
'The Mantis' is the latest crime fiction book from Kotaro Isaka, the internationally bestselling author of 'Bullet Train' –
 which was made into a major film starring Brad Pitt and Sandra Bullock in 2022.
In 'The Mantis', a seemingly ordinary family man named Kabuto 
tries to juggle his home life with his job as a hitman. 'The Mantis' will be released on 9th November 2023. 
We have a set of Kotaro Isaka's three books to give away, including 'Bullet Train', 'Three Assassins' and 
a signed copy of 'The Mantis'! 
✨
————————————————————-
HOW TO ENTER:
- Go on Instagram and follow the following accounts: @sweetie.kawaii and
 @vintagebooks
- Tag your friends in the comments
- Share this post to your Instagram story
————————————————————
Terms & Conditions:
- The giveaway will conclude on 7th November at 11:59 PM, and we will select one winner.
- Your Instagram account must be set to public.
- Multiple entries are welcome.
- This giveaway is open to The United Kingdom of Great Britain and Northern Ireland residents only.
- Entrants must be over 18.
- Only participants who complete all the steps will be eligible for entry into the giveaway. 
- The winner will be contacted on 9th November via direct messages from our Instagram account only. We will not reach out to you on any other pages.  
- Please note, that the winner must have a UK address and must be comfortable with us passing on their address to 
Vintage Books 
(for shipping purposes only).